Tuesday, March 5, 2013 -

12:00

to

20:00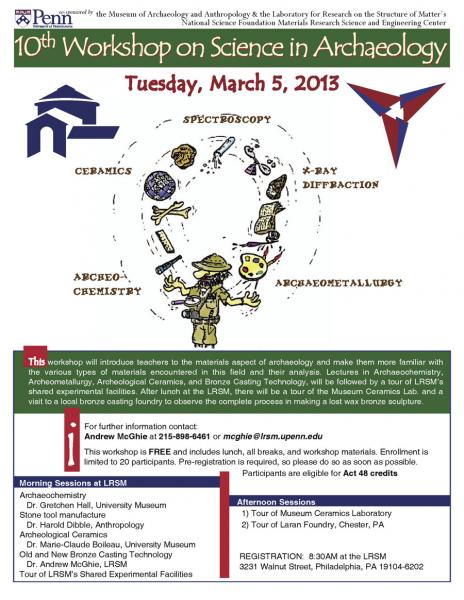 10th Workshop on Science in Archaeology
This workshop will introduce teachers to the materials aspect of archaeology and make them more familiar with the various types of materials encountered in this field and their analysis. Lectures in Archaeochemistry, Archeometallurgy, Archeological Ceramics, and Bronze Casting Technology, will be followed by a tour of LRSM's shared experimental facilities. After lunch at the LRSM, there will be a tour of the Museum Ceramics Lab. and a visit to a local bronze casting foundry to observe the complete process in making a lost wax bronze sculpture.
Morning Sessions at LRSM
Archaeochemistry
Dr. Gretchen Hall, University Museum
Stone Tool Manufacture
Dr. Harold Dibble, Anthropology
Archeological Ceramics
Dr. Marie-Claude Boileau, University Museum
Old and New Bronze Casting Technology
Dr. Andrew McGhie, LRSM
Tour of LRSM's Shared Experimental Facilities
Afternoon Sessions
Tour of Museum Ceramics Laboratory
Tour of Laran Foundry, Chester, PA
REGISTRATION: 8:30AM at the LRSM
3231 Walnut Street, Philadelphia, PA 19104-6202
For further information contact:
Andrew McGhie at 215-898-6461 or mcghie@lrsm.upenn.edu

This workshop is FREE and includes lunch, all breaks, and workshop materials. Enrollment is
limited to 20 participants. Pre-registration is required, so please do so as soon as possible.
Participants are eligible for Act 48 credits
Co-sponsored by:
the Museum of Archaeology and Anthropology & the Laboratory for Research on the Structure of Matter's
National Science Foundation Materials Research Science and Engineering Center