Thursday, February 28, 2013 -

18:00

to

19:30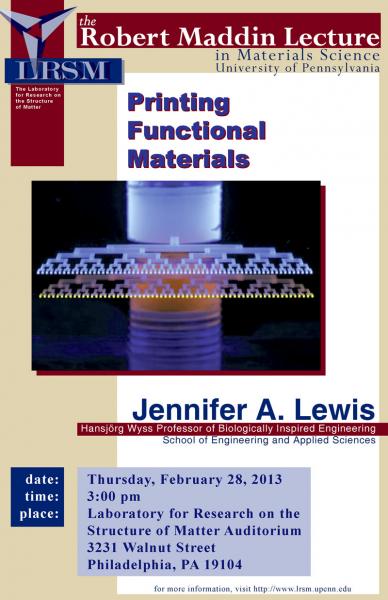 "Printing Functional Materials"
Jennifer A. Lewis, Harvard University
The ability to pattern functional materials in planar and three-dimensional forms is of critical importance for several emerging applications, including printed electronics, self-healing materials, and tissue engineering scaffolds. Direct-write assembly enables one to rapidly design and fabricate materials in arbitrary shapes without the need for expensive tooling, dies, or lithographic masks. In this talk, I will describe the design and rheological properties of model and functional inks as well as their implementation in printing of (1) microelectrodes for pen-on-paper electronics, flexible photovoltaics, and 3D electrically small antennas, (2) hydrogel matrices with embedded microvascularization and (3) 3D hydrogel scaffolds for tissue engineering. Finally, recent advances in high throughput printing of single and multiple materials via multinozzle arrays will be highlighted.