Phase behavior of asymmetric copolymers confined in thin films
Thin block copolymer films are highly relevant for many scientific and industrial applications due to their ability to form uniform domains of controllable shape at nanometer length scales. From a technological point of view, the cases of shapes with long axes may be of interest in the fabrication of nanowires, while upright cylinders and spheres could have potential applications in the patterning of hexagonal arrays for data storage. One of the salient features of the system at hand is that the cylindrical microdomains (formed by the minority block of the copolymer) change their orientation as the thickness H of the film is increased, whereas the surrounding polymer matrix (formed by the majority block of the copolymer) remains largely unaffected. We conducted large scale, GPU accelerated computer simulations that reproduce the experimental findings quantitatively, and identified the mechanism behind this phase transition [1]. Furthermore, we formulated a simple model that is able to predict the existence and position of these transitions.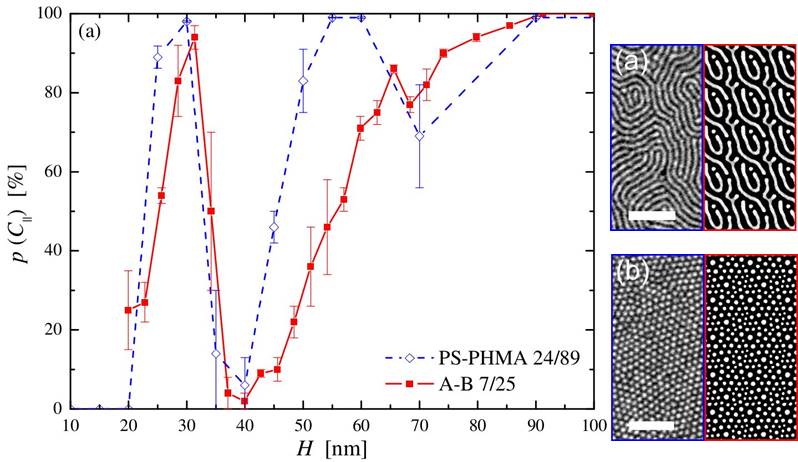 Above: Fraction of parallel cylinders as a function of film thickness H. Blue lines and symbols represent experiments, red lines and symbols show simulations. The snapshots show typical configurations in experiments (left half) and simulations (right half) at given H. Below: Morphology diagram of a confined monolayer of copolymers. The propensity of the majority block (PHMA) to wet the surfaces has been increased from left to right.