ZnO Nanowire:P3HT Hybrid Solar Cells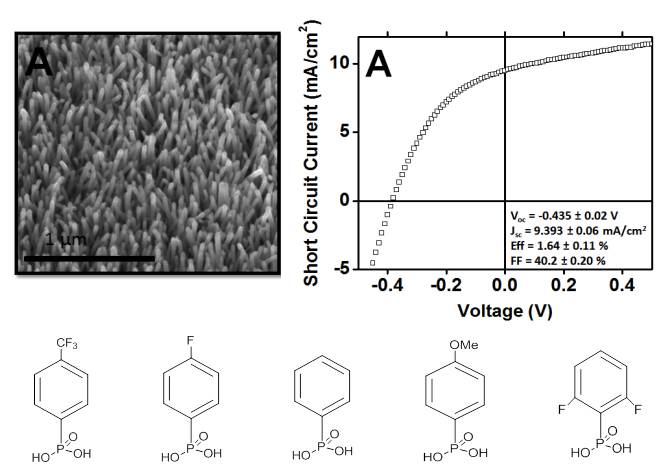 We have demonstrated record
efficiencies in ZnO nanowire array:
poly(3-hexylthiophene), P3HT, bulk-heterojunction
solar cells [1]. A sputtered Zn layer that is wet oxidized was used as the seed
layer for subsequent growth of vertically oriented ZnO
nanowire arrays.  The sputtered seed
layer is more homogeneous than conventional sol-gel derived seed layers, so the
nanowire arrays are more uniform.  In
addition, the sputtered seed layer also serves as an effective hole-blocking
layer.
To further improve the device
characteristics, we adsorbed self-assembled monolayers comprising phosphonic
acid derivatives on the ZnO nanowires prior to infiltration of
P3HT [2].  The treatment passivates
surface defects and uniformly improves device characteristics.  We observe a strong correlation with the
surface energy of the treated ZnO,
likely due to varying extents of improvement in the contact between P3HT and ZnO
at the charge transfer interface [3].